<!– PLACE THIS SCRIPT INTO THE DOCUMENT HEAD –> <!– END OF HEAD CODE – > <!– PLACE THIS BLOCK INTO THE DOCUMENT BODY –> <!– END OF BODY CODE –>
Impact Of Social Media On Education
   Introduction,
For better or worse, the Impact of social media has undoubtedly altered the educational system. Less positive more negative. Teachers can use social media to disseminate lesson plans and ideas to their colleagues, while students can use it to stay in contact and in touch with friends and classmates.
Nonetheless, students and teachers face significant challenges due to social media use. Cyberbullying is a problem that school administrators must address. Viral challenges (like TikTok) have disrupted classroom time and even encouraged the destruction of school property. Significant data privacy issues are also commonly associated with social media use.
The innovation and development of social media have changed the world of communication, how people communicate, and the world at large. The education sector has been profoundly affected by the meteoric popularity of social media sites like Facebook, Twitter, Instagram, YouTube, and LinkedIn during the past decade.
In today's technological world, social media platforms like Twitter and Facebook have rapidly expanded into mainstream classrooms. How students and teachers communicate and share knowledge has also been revolutionized. Social media's influence on schooling and learning has pros and cons.
Impact Of Social Media in the Classroom
Some schools can make personalized learning work, and others cannot. Insights from Evaluation Results
The federal government and individual states attempt to address some of these problems. For instance, legislation has been introduced in the United States Congress to regulate how social media companies treat their users' personal information and whether or not to remove offensive material.
Concerned that the app could be used to spy on Americans and manipulate content, Republican Senator from Florida, Marco Rubio, recently crafted a bipartisan bill to ban TikTok. Educators and students in grades K-12 are using the video-sharing app TikTok at record rates, coinciding with the introduction of this legislation.
Individualistic Culture Growing Acceptance
Impact of Social Media; School Climate Through the Use of Social Media.
We are improving the school climate through the use of social media.
Two female and male businesspeople, each with a laptop open and surrounded by speech bubbles and icons for various social networking sites.
Social media provides an excellent opportunity for school and district administrators to reach out to their constituents and spread the word about the great things happening in their schools. The fear comes from the fact that any teaching resource could be misused in some way.
The World's Best Baby Back Ribs
District administrators discuss their motivations for social media and offer advice for getting the most out of these platforms. An assistant principal discusses his use of YouTube and TikTok to foster a more positive environment in the school. An educator shares how he uses the video-sharing platform TikTok to connect with students, have fun, and earn extra cash. Including online social tools in education
The availability of many resources is a major benefit of social media in the classroom. YouTube and Twitter, for example, provide students with easy access to many instructional materials, such as video lectures, how-to guides, and scholarly articles. Because of social media, students no longer rely solely on teacher-led lectures to advance their education.
Furthermore, students' ability to communicate and exchange knowledge with their peers has been facilitated by social media.
Students from all around the world can network with one another on social networking sites like Facebook and LinkedIn to discuss course material, share resources, and work together on group assignments. Because of this, a universal learning community is now not limited by location.
Students Where They Are in Social Media Use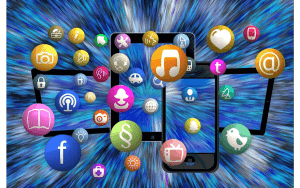 Some educators claim they can meet their students where they are in social media use and then use other strategies to draw them into more in-depth learning. Some educators, for instance, are addressing the effects of technology on students' conduct, focus, and cognitive maturation using social media.
It is also being used as a media literacy resource to teach students how to evaluate and place information in its proper context. The use of social media by teachers to disseminate snippets of instruction is also not uncommon.
School System Having a Social Media Account Allows Students to Connect
A boy sits at the top of a giant staircase designed to look like the Facebook thumbs-up icon, and all eyes are on him as he works on his laptop below. School System Having a social media account allows students to connect, create a sense of school community online, and show their school spirit by sharing photos from school events.
There are, however, significant privacy concerns associated with them. Different opinions on what schools should do to address privacy issues are presented.
Dwayne The Rock Johnson Picks Up $9.5 Million Georgia Farm.
Concerns about imposter accounts purporting to represent schools or school districts have also been raised. Please find out how to deal with the problem of imposter accounts that use your school's name and what groups are doing to support schools in their efforts to have their legitimate accounts verified and imposter accounts removed as soon as possible.
Education Week also provides how-to guides on avoiding social media pitfalls, dealing with TikTok challenges at school, and recognizing fake news stories.
Benefits
It's important to begin by praising social media for its benefits. Here are some of the most important ones:
Both teachers and students can benefit from their use. As a means of interaction, social media is unparalleled. Young adults and college students today typically use instant messaging services.
They are really helpful when it comes to sharing information; they can handle any issue. Use internet conversations to locate a competent and trustworthy paper writing service. Some users will recommend services to you.
You can learn about its primary benefits and drawbacks. The same holds if you need a maths solver or instruction booklets;
An excellent reference material. All information imaginable is available online. All the information you need to conduct a study or an inquiry can be found on social media, and everyone can access it.
Almost everyone nowadays uses social media like Facebook, Instagram, and LinkedIn. Accessing your account doesn't necessitate cutting-edge gadgetry. You can complete the process on your mobile device.
Learning is simplified and animated by the availability of social media. However, there are major negatives that you should be aware of.
Awful Consequences of Social Media
<!– PLACE THIS SCRIPT INTO THE DOCUMENT HEAD –> <!– END OF HEAD CODE – > <!– PLACE THIS BLOCK INTO THE DOCUMENT BODY –> <!– END OF BODY CODE –>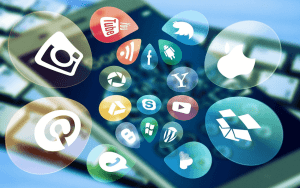 Students today are widely regarded as members of the "distracted generation" due to their excessive use of social media. They make it harder for students to concentrate. Try keeping a check on yourself of how many times you check Facebook or your instant messages while you're supposed to be studying.
Even in class, you continue to do it. It's hard to instruct kids too preoccupied with their phones to pay attention to the superintendent or their instructor. Communicating with others and expressing yourself becomes more challenging. Restricting media consumption is essential for improving oratory skills.
Sometimes you can't believe what you read on social media. Some details may be off or unclear. Data must be thoroughly checked before use; pupils' safety is at risk. While most people believe that today's educational platforms are safe from fraud, it is possible to fall prey to a con artist.
Social media continues to grow and getting more stronger in today's world. They have the potential even to alter the classroom climate. You should think about this when developing a method of instruction or study.
Students and faculty alike would benefit from realizing that social media is a powerful tool for bridging the generation gap and fostering intergenerational communication. If used properly, they can assist in producing fantastic outcomes.
Group of Young Adults 
Teenagers On Social Media Uses Emerging Social Apps That Teachers Should Know About
It's impossible to keep up with the constant shifts in the social media landscape. Here's the scoop on the hottest new student-favorite social media apps: Using polls with an ostensibly positive slant, Gas app users are limited to only saying nice things about each other. Even so, experts warn that bullying and other forms of emotional harm remain a possibility.
According to Yubo's promotional materials, the app's teen users will be able to "find your crew based on your interests" by using the app's profile creation, location sharing, and user photo browsing features. In addition, if you're not already aware of it, here's some information about TikTok that teachers should be mindful of.
However, social media also has the potential to hinder academic progress. Distracting students from their schoolwork is one of the main drawbacks. The addictive nature of social media means that users may waste hours every day checking their feeds, which can negatively affect a student's productivity and grades.
Furthermore, students may be vulnerable to cyberbullying and online abuse due to their use of social media. Cyberbullied students may suffer from anxiety, sadness, and isolation, all of which negatively affect their ability to learn.
In Conclusion,
social media's good and negative effects on education and learning have been observed. Although it has helped students access a wealth of information and work together more effectively, it has also led to distractions and put them at risk for cyberbullying and online harassment.
Therefore, it is crucial to find a middle ground between social media's positive educational potential and its potentially harmful impacts. Together, students and teachers can harness social media's benefits while avoiding its pitfalls in the classroom.
Biography of Queen Elizabeth 2
For more details click here,