<!– PLACE THIS SCRIPT INTO THE DOCUMENT HEAD –> <!– END OF HEAD CODE – > <!– PLACE THIS BLOCK INTO THE DOCUMENT BODY –> <!– END OF BODY CODE –>
What to Expect Now That the

Hollywood

  Actors Strike Has Reportedly Ended 
The Hollywood Actors Strike 
As soon as the Hollywood actors strike ends, production on films and TV series will resume. While this agreement allows the show to get back on track, it will be some time until things are back to normal, and viewers may notice a difference for weeks or months.
Hollywood has been on hiatus for 118 days, but it appears like we can now expect to hear the words "action!" again.
A "tentative deal" has been reached between the US actors' union SAG-FTRA and the studio heads in Hollywood, and the picket lines have been dismantled.
The declaration follows a separate 148-day strike by the Writers Guild of America (WGA), which concluded in September.
Before the contract can be finalised, it must first be reviewed by the national SAG-AFTRA board, after which the agreement's specifics will be made public and voted on by the guild's whole membership.
When the striking screenwriters finally struck an agreement in September. However, production could continue before the contract was formally ratified.
Now that Hollywood is ready to resume production, the Hollywood Actors Strike Has Reportedly Ended; here's what you can anticipate.
9 Incredible Movies 2023 You Need to Watch at SXSW  
Create Movies and TV Shows
As soon as the Holywood Actors strike ends, production on films and TV series will resume. The agreement means the show may start, but it doesn't mean new series and movies will be coming out all at once. The industry has been thrown off schedule for several months, and it will take time to get back to normal.
When production picks back up, fans can expect to see films like Deadpool 3, starring Ryan Reynolds and Hugh Jackman and Ridley Scott's Gladiator sequel.
Even before the news, the actors of Wicked, which features Ariana Grande and Jonathan Bailey, were days away from finishing the picture. Production on the fifth season of the iconic '80s sci-fi series Stranger Things was also halted.
Other popular programs' forthcoming seasons were also placed on hold, including production on The Handmaid's Tale and The Last of Us.
Now that the writers' strike is over, programs like Abbott Elementary, The White Lotus, and Yellowjackets may go back to writing their scripts, which might speed up their return to television if its cast members are given the all-clear.
Compared to cinema, television can react quickly. After film production begins, there is still a considerable period of editing and advertising.
More series and films revealed delays in the weeks leading up to the resolution's introduction. For example, the last episodes of Yellowstone, starring Kevin Costner, will premiere in November 2024.
Trendiest Television Programs of 2022
Oscar-Worthy Glitz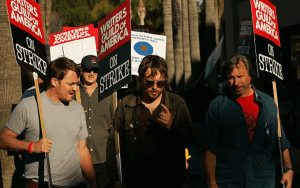 Not only was production halted, but so was the promotion of future films by the members of SAG-AFTRA. This union represents some 160,000 people in the entertainment sector.
Film and TV premieres have been postponed or gone on without their stars for months, and there have been fewer interviews with performers discussing their careers. Actors on strike were reportedly told they couldn't even celebrate Halloween as their favourite movie or TV characters.
Stars like Cillian Murphy, Emily Blunt, and Matt Damon, who were all set to attend the premiere of Christopher Nolan's epic Oppenheimer on July 14, had to skip the event because of the actors' strike.
We can now anticipate a frenzy of red-carpet announcements as studios scramble to once again show off their talents in anticipation of upcoming promotions.
The strike also affected international film festivals such as Venice and Toronto – and during the London Film Festival in October, director Martin Scorsese said he was "disappointed" the stars of his latest film, Killers Of The Flower Moon, including Leonardo DiCaprio and Robert De Niro, were unable to attend.
Sundance, Berlin, and Cannes will be able to open 2024 as scheduled now that the strike has ended.
Michael Mann's forthcoming racing thriller Ferrari saw its actors Adam Driver and Patrick Dempsey attend the Venice Film Festival thanks to an exemption. Dempsey also had an interview with People magazine after the publication voted him its Sexiest Man Alive.
Actor Sylvester Stallone Loses Money on His Villa Sale in La Quinta, California
How Does This Affect Award Presentations Like the Oscars?
The Emmys, which are typically held in September, were postponed until next year because of the strikes. A new date of January 15 has been established, and the ceremony may now go place on this day.
Events, including the most prestigious one, the Oscars, which typically take place between January and April, can now go as scheduled.
Explain the Gist of This Arrangement.
Salary hikes, consent requirements for the use of AI and actors' likenesses, and a "streaming participation bonus" are all part of the pact, which SAG-AFTRA claims is worth over a billion dollars.
The alliance Motion Pictures and Television Producers claims the "tentative agreement represents a new paradigm" and that studios are promising performers "the biggest contract-on-contract gains in the history of the union, including the largest increase in minimum wages in the last 40 years".
Executive Director and Chief Negotiator for SAG-AFTRA Duncan Crabtree-Ireland believes the union has won enough concessions to justify ending the strike.
Dwayne The Rock Johnson Picks Up $9.5 Million Georgia Farm.
So, Now What?
Things still need to settle down completely. Video game actors may go on strike again. While contract talks continue, a temporary stoppage has been approved.
Video game actors, who do everything from voice acting to stunt work, have voiced similar worries to those of SAG-AFTRA members regarding the rise of artificial intelligence in the workplace.
In 2024, production companies will also begin bargaining with the Theatrical Stage Employees, International Alliance of the union representing stagehands. 
Members of IATSE are essential to the film and television industry because they do everything from building sets to operating lights and producing special effects.
 They've been hit hard by the production halt, and some of their members have even joined the picket lines of the writers' and actors' strikes.
As the strikes of actors and writers have continued, other workers in the business have also begun to organise into unions. Visual effects artists on Marvel films opted to join IATSE, while certain workers in the reality television industry are advocating for a reunion.
So, while Hollywood likes a happy ending, there might be a sequel to come.
The Most Promising AI Tools to Investigate in 2023
If you are interested in entertainment news, visit blogkingworld.com and like and follow us. Thanks